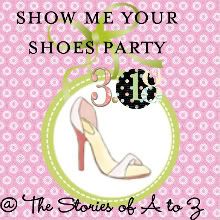 Well, one of them anyway. Beth at The Stories of A to Z is hosting a
Show Me Your Shoes party
today and this is one party I can truly get into! I love me some shoes! And always have. I'd give anything to still have my favorite shoes from high school--5 inch platforms with a black thin wale corduroy on the platform and a small floral print on top. So cute!
Anyway, here are a few pics of my shoes. First, a couple of my closet. This doesn't show them all, but will give you an idea of my problem. I don't wear the majority of them because of my problem feet--just can't get rid of them (the shoes, not my feet). I'm not modeling these because my polish needs redoing. Besides, do you know how hard it is to photograph your shoes while you're wearing them??
My sweet husband says a woman can't have too many shoes--what a guy!
Most of those boxes have two or three pair in them!
Here are some of my favorites:
My new Shape Ups--these bad boys are going to give me the butt of my dreams--without even working out--at least that's their claim

Fooled you, didn't I? I used to wear the two above. Now my bunions require the ones below. Easy Spirit and Earth Shoes. But I least I am comfortable.
These black boots are Easy Spirit and about the most comfortable ones I've ever worn. Wish I had a pair in brown, I'd be set.
Let's call these Special Occasion shoes.
They've never left the house. ;-)
So, got any shoes you wanna show off? We'll keep your secrets!