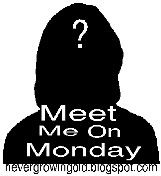 Welcome to the 36th edition of
"Meet Me On Monday!"
Thanks, Java, for continuing to do this! I've found so many interesting people and blogs through this linky! Hope you'll join in, too.
1. What are you wearing right now?
My "uniform". Yoga pants, t shirt, and socks. Hair in a ponytail. Colors may vary, but theme stays the same. Ask me this question in the summer and all I'll do is substitute workout capris for the yoga pants. Oh, and don't surmise by this attire that I actually workout or do yoga. But I talk a good game.
2. Do you have any freckles?
Do the age spots on the backs of my hands count?
not my hands--but close

3. What is your favorite Lifesaver flavor?
Butter Rum! I don't drink, so I feel quite rebellious as I eat them.

4. What is the last movie you saw in the theater?
Tangled. Saw it in 3D over Thanksgiving with the grandkids and loved it! Even if it did cost an arm and a leg, it was worth it to see my two granddaughters reaching out for the floating lanterns that seemed to be right in front of them.

5. Would you rather live without tv or without music?
I can make my own music, but that there talking box is a mystery and thus something I must stare at endlessly trying to figure out how it works.