Welcome to the 35th edition of
"Meet Me On Monday!"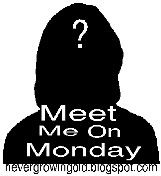 All righty, ladies--it's time to put down the Valentines and hop on Java's Monday train. Let's get busy here!
Questions:
1. Did you get any Valentine's Gifts?
No and I hope I don't. Seriously, my husband gives me gifts all the time. We don't need a specified day to show our love. I'm not trying to be smug--I'm just very lucky in the husband department!
2. What is your favorite topping on something toasted?
Margarine--not butter. I figure the more preservatives I eat now, the less they'll need when I die! ;-)
3. Do you pick out your outfit the night before?
Well, I'm usually at home, so there's not much thought involved in jeans and tee shirts.
4. What food item do you absolutely despise?
Seafood--not gonna eat anything that swims!
5. Righty or lefty?
Right!