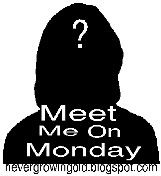 Welcome to the 25th edition of
"Meet Me On Monday!"
"Blogging is a funny thing...we tell our most intimate thoughts for all to read and yet most of the time I find myself sitting and wondering, "who is this person!?" I know them...but yet I don't know them! I want to know who the person is behind all those words so I thought of a great way for all of us to "meet" each other!"
Questions:

1. What is your favorite kind of cheese?
don't really like cheese--unless it's melted on a pizza

2. What size is your bed?
queen--isn't that appropriate for moi?

3. What is your most overused phrase?
I'd like to think it's "I love you", but it's probably more like "who drank all my Mt Dew!"

4. Green or purple grapes?
both

5. Shower, morning or night?
morning--sometimes that's the only way I can wake up!