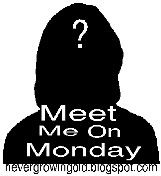 Welcome to the 26th edition of
"Meet Me On Monday!"
Barely squeaking this one in under the wire!!
1. How do you order your steak?
I'm not a big fan of steak, but if I have to eat it, I want it very well done. First one on and last one off. Which can lead to a tough piece of meat. Maybe that's why I don't like steak. But I don't like pink meat even more!

2. Are you superstitious about anything?
Don't think so, though I don't often talk about good stuff or tell people when I'm happy. Don't want to tempt fate.

3. Who is your best friend (not including your spouse)?
my daughter Lauren

4. When is the last time your wore a dress (for the guys...a suit)?
church Sunday before last

5. Do you have any trips scheduled?
We're planning a 10 day trip out west next spring--Wyoming, North and South Dakota, Idaho, Utah. Yosemite, the Bad Lands, Independence Rock. Oh, yeah, and our son and daughter in law, too!