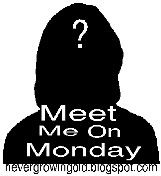 Welcome to the 27th edition of
"Meet Me On Monday!"
1. What will your Christmas dinner consist of?
Turkey, ham, home canned green beans and corn, homemade rolls, desserts aplenty, and lots more!

2. Do you watch commercials or flip through the channels?
I like to watch them--how else will I know about upcoming shows I need to watch, or sales I need to attend, etc? But if hubby is in the room, we flip. And flip. And flip.

3. How long will you leave your Christmas decorations up?
I have been known to start the take down process on Christmas Day. This year, the grandkids will be here till January 2, so I won't do it till they're gone.

4. What movie makes you cry every time you watch it?
Ghost, All Mine to Give, Gone With the Wind, Cheaper by the Dozen (the original), a lot of others but these are the only ones I can think of right now

5. Do you have a Facebook?
Absolutely! And I spend entirely too much time on it. Sometimes I sit and wonder what all I did before Facebook. Oh, yeah, cleaning, cooking, laundry--unimportant things like that.