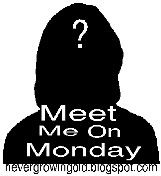 Welcome to the last MMOM of 2010! Wow, this year has absolutely flown by! Is that a sign of my getting older?
1. What are your New Year's Eve plans?
Staying home! Yep, we're boring people.
5'3"--I actually like my height. Not too short, not too tall. Two of my three daughters are taller than me and my 9 1/2 year old granddaughter already comes up to my shoulder!
3. What is your favorite pudding flavor?
If we're talking plain pudding, it has to be chocolate.
But banana pudding is my favorite dessert!

4. What room of the house do you blog the most in?
Usually in the kitchen on the desktop. Because of this, I spend way more time in the kitchen than I ever have.
5. What is your best physical feature?
My husband would say my legs, but his eyes are going.
unfortunately, these are NOT my legs!
If I had to choose, I'd say my mouth. Though with age, my lips are thinning. Thank goodness for those plumping lip glosses!
these also are NOT my lips! drat!