Follow Friday 40 and Over!!
Welcome to the 54th edition of the
Follow Friday 40 and Over!!
Are you a blogger over 40? Yeah, welcome to the club!
Please join in the fun and get to know your fellow bloggers!!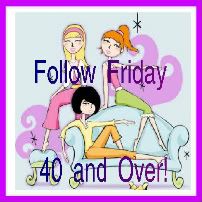 This week's statements from Hilary at Feeling Beachie:
1.
My closet is full of purses!

I have more now than I've ever had in my life--but I rarely change them out! I use the same one over and over.
2.
I love coming home from work after....

I don't work outside the home now, but when I did it was wonderful to have supper already started.
3.
In high school I was

a lot more outgoing than I am now--and I didn't care as much about what other people thought.
4.
I wish I had more time for/to

read all the blogs I follow--and leave more comments!