Welcome to the 55th edition of the
Follow Friday 40 and Over!!
Are you a blogger over 40? Yeah, welcome to the club!
Please join in the fun and get to know your fellow bloggers!!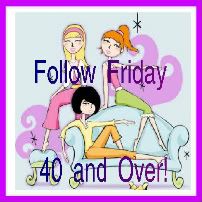 Each week,
Feeling Beachie
gives us four statements with a blank to fill in. Here are today's:
1. If you would have ever told me years ago that I now would
have a blog and be computer savvy enough to put up pictures and videos
, I would never have believed you
2.
Diet Mt Dew
is my beverage of choice.
(Bet that came as a big surprise, didn't it?)
3. The last time I got an
iPhone
was
yesterday
!
Finally!
4.
Making a bucket list
is one of the items on my bucket list.