It's NaBloPoMo (National Blog Posting Month) and I'm going to try to post every day. May be a challenge as we'll be out of town a couple of weekends and we'll have grandbabies (yay!!) over Thanksgiving. For today's installment, I'm trying out a new linky. I'm naturally curious (some might say nosey) and love learning about other people! Thanks,
Java
, for hosting this.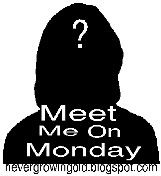 "Blogging is a funny thing...we tell our most intimate thoughts for all to read and yet most of the time I find myself sitting and wondering, "who is this person!?" I know them...but yet I
don't
know them! I want to know who the person is behind all those words so I thought of a great way for all of us to "meet" each other!
Every Sunday I will post five
get to know you
questions that you can copy and paste into your own Monday post and we can all learn a little more about each and every one of us!!"
1. Have you ever been on a cruise?

No, and it's not something I think I'd want to do. I'm not crazy about boats....or water....or sharks...
2. What is your favorite way to eat eggs?

Baked in a cake
3. What is your favorite reading material?

I'll read almost anything. Books, magazines, backs of cereal boxes
4. Name all the pets that you have ever had?
Air Fievel & Bo Jackson -ok, ok, they were gerbils. sheesh!
various cats whose names I have forgotten
5. Were you ever a boy/girl scout?

Girl Scout for about 10 minutes--the leader was less than welcoming