Welcome to the 22nd edition of
"Meet Me On Monday!"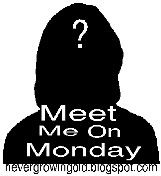 Thanks once again to Java at
Never Growing Old
for hosting Meet Me On Monday. Hope you'll hop over there and link up so we can learn more about YOU--after leaving a comment here, of course. ;-)
1. Do you eat Sushi?
That would be a big negatory. No fish, no sushi, none of the above in any way, shape, or form!
2. What kind of bath soap do you use?
Combination of a moisturizing body wash I buy at Sam's and Zest. Body wash just doesn't seem to be strong enough for underarms, feet, etc. TMI?
3. How often do you talk to your Mom?
Not often enough. And usually get chastised for not calling more often--which leads me to not want to call--which leads to more chastisement--which leads to....You get the idea.
This in no way is representative of my mother. ;-)
4. What TV shows do you watch on a regular basis?
Jeopardy, NCIS, The Closer, Law and Order SVU. I'm a sucker for cop/forensic type shows--and prefer the real case ones like Forensic Files, Snapped, etc.
5. Did you start Christmas shopping yet?
Yes, but barely. I tend to forget where I hide things and have been known to run across a gift in Feb or March. I like to spend a day or two after mid-December and get it done in one fell swoop.