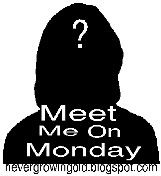 Welcome to the 24th edition of
"Meet Me On Monday!"
Blogging is a funny thing...we tell our most intimate thoughts for all to read and yet most of the time I find myself sitting and wondering, "who is this person!?" I know them...but yet I don't know them! I want to know who the person is behind all those words so I thought of a great way for all of us to "meet" each other!
"Its a great way to to meet new friends and for others to get to know me better....one Monday at a time!!!"....as quoted by the Chacogirl!! I will make this SIMPLE and FUN!!!
1. What is your favorite way to eat chicken?
Please--have you met me? I'm from the South! Fried, of course! Preferably, as what we call Tenders with a side of honey mustard to dip them in!
2. Have you decorated for Christmas yet?
No. One of our children has an early December birthday and we never decorated till after that so as to not compete. It just got to be a habit. Plus I think Thanksgiving should have its day!
3. What is your favorite article of clothing?
Right now, it's a red tunic sweater.
(kinda like this, but not as long)

4. Do you pay your bills online or write checks the old way?
Both.

5. Do you make Christmas cookies?
If the slice and bake kind count, then yes.