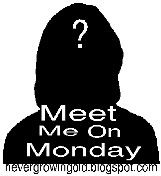 Welcome to the 29th edition of
"Meet Me On Monday!"
Questions:

1. Do you have any New Year's resolutions?
My resolution is NOT to make any resolutions. Seriously, I think that's one I can keep!
2. What food item are you craving right now?
Since it's only 7am, I'm not craving much of anything. But, if I was, it'd probably be a Krispy Kreme doughnut. Or a sausage McGriddle. Since losing weight is something I want to do this year. But it's not a resolution!

3. When is your birthday?
May 6

4. What were you doing an hour ago?
Rolling over--doing my best to wake up, but failing miserably

5. Last thing you cooked?
The most wonderful thing happened when I saw this question--I couldn't remember!! Guess that means I'm doing something right!