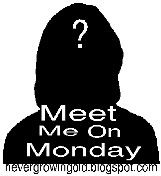 Welcome to the 33rd edition of
"Meet Me On Monday!"
Linking up with Java once again. I must admit to loving these questions and finding new blogs! My list of blogs I follow grows every week!
Questions:

1. What do you put on your hot dog?
If it's boiled, chili. If it's grilled, good ole ketchup.

2. Do you play Sudoku?
I can't even pronounce the name, much less play the game! Besides, it involves numbers. Numbers are not my friends!

3. What is your favorite vegetable?
Potatoes! There's not much you can do to mess up a potato!

4. Do you color your hair?
You better believe it, baby! Since I was 30--and we won't talk about how long ago that was.

5. What is your favorite brand of clothing?
Don't really have one. Fit is the important thing. I do love me some Lee Riders though.