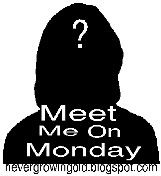 "Its a great way to to meet new friends and for others to get to know me better....one Monday at a time!!!"
....as quoted by
the Chacogirl!!
Once you're done here, click that graphic above and join Java by linking up!
Questions:

1. Have you (only you..not a group) ever won first place in anything?
Well, once my daughter Lauren and I dressed up like Sonny and Cher and won a local lip synch contest! We sang "I Got You, Babe" (of course--did they even have other songs?). It was a hoot and we still laugh about it.
2. Are your toes always painted (sorry guys...this question for girls only)?
You would ask this question today! Usually, yes. My red toes are my naughty little secret! However, right now, they are chipped and ugly. Darrell can't stand the smell of polish or remover, so I try to use those products when he's gone. With this crazy weather, he's been home more and my nails are suffering. He needs to go back to work!
not my toes--mine don't look this good!

3. What color eyes do you have?
Hazel. Depending on what I'm wearing, they may be blue or green. I normally try to bring out the green--it goes with my temper.

4. Look to your left....what do you see?
Dirty dishes, crap all over the kitchen counters. Can I look back now before I start to feel guilty?
5. Soft cookies or crunchy cookies?