Welcome to the 32nd edition of
"Meet Me On Monday!"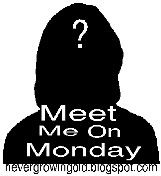 Well, here we are again--Monday and the chance to learn more random things about yours truly. Are you keeping a little log of all these nifty tidbits? It might be worth something someday...
Questions:

1. What is your favorite kind of fudge?
Plain old chocolate--but it has to have pecans in it. No walnuts, peanuts, etc. Just chocolate and pecans. (And that's pronounced pa-caans)
2. Is there snow outside your window?

A little--we got several inches the other day, but most of it is gone now.

3. What is your favorite meal of the day?

The one I eat in a restaurant! Whatever time of day--if someone else is cooking it and cleaning it up, I'm a happy girl!

4. Do you text on your cell phone?

No. I have an older phone with several letters on one button. Takes for. ev. er!

5. Waffles or pancakes?

See #3. As long as I'm not fixing them....